Click here to read Pinetree's Disclosure Criteria
Pinetree began investing in precious metals stocks in 2002 when gold was trading at $300/oz. Gold broke new records in 2011, rallying to a record high of $1622.49 an ounce in July 2011. With the fundamentals for gold remaining strong, we expect to see gold prices at record highs going forward. Government spending and inflationary pressures in the US coupled with interest rate cuts resulting from the sub-prime market are putting downward pressure on the US dollar. People are investing in gold as a hedge and safe haven.

Likewise, Pinetree believes that silver is highly leveraged to the depreciating US dollar and we remain very positive about junior silver exploration companies. The price of silver grew by 46% in 2006 and this growth continued in 2007 and is widely expected to continue, driven largely by investment and industrial demand. As is the case with gold downward pressure on the US dollar is driving investors to silver as a hedge. There is also strong demand for silver from industrial applications including: electronic and electrical applications, semi-conductors and new applications taking advantage of silver's anti-microbial properties.

Looking forward, we believe the supply side fundamentals for both silver and gold support elevated prices as new mines are taking longer to come into production due to permitting delays, environmental activism and political risk. We believe superior returns will come from investments in junior exploration and development (pre-feasibility or feasibility studies under way) companies, given their potential for discovery and their high level of leverage to elevated gold and silver prices.
24 Hour Spot Gold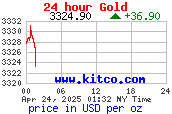 Precious Metals Investments as at December 31, 2014.
Please see our disclosure criteria regarding the investments that are displayed below.
Precious Metals
Cost
('000)
Total fair value
('000)
% of total fair value
$49,308
$8,690
61.2
Issuer
Security Description
Cost
('000)
Fair
Value
('000)